What does it mean when you get to a place and can't stop yourself from crying for days on end?
Maybe it means that my body is arriving and integrating. Maybe it means that I am processing grief. Maybe it is my DNA is speaking to me. Maybe it means that I found a place that I can be. Maybe it means nothing. who knows.
I arrived in Galway City in Ireland on October 9, 2022 with the aid of a couple of cousins who hosted me in Ballinasloe the day before. Michelle, who had lived in Galway City as student, wrote on the both the back and front of an envelope that had carried a bill in it, with all the places for me to eat and be merry.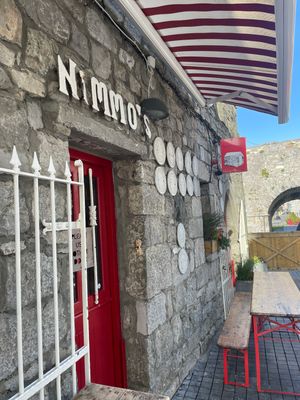 I took myself out to breakfast the next morning and the crying began. On Michelle's recommendation, I went to ArdBia AT Nimmos which is situated just on the other side of Spanish Arch, near the center of Galway City. I sat at a perfect little table right next to a window looking out on the spot where the river let out into the Bay, the windowsill decorated with a small collection of fall squash. On the table was a blue and which ceramic milk container, a small container with unprocessed sugar, and a white ceramic pitcher with yellow flowers. I ordered the home made granola with pear and yogurt and a cappuccino, which is something I really only drink when I am abroad. I brought my little travel journal with me and as my pen hit the paper, my heart became filled with emotion and all of a sudden, I found myself weeping over my granola.
As the weeping became more intense, I hurried to finish my breakfast so I could get out of the tiny restaurant without causing a scene.