I came to Ireland for the first time just as I turned 40 years old. My purpose: to connect with the people, my roots, and most importantly, to discover the music. The long game dream is taking all of these these discoveries into a theatre piece, but now I am just taking it all in and learning as much as I can.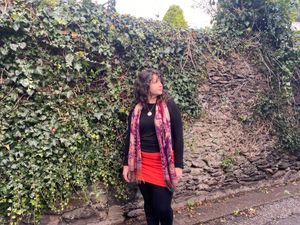 For the good part of my musical journey, I have been steeped music made and liked by the people directly surrounding me. My mom, Karen Tobin, who is a singer and songwriter; my sister, whose taste in music music was always something I wanted to emulate; my late father whose life and identity was dedicated to the recording and producing of high level music; and of course my bad ass girl power friends from high school who ran with me deep into the Ani DiFranco, Alanis Morisette, Sarah McLaughlin (to name a few) lane.  
When I was 12, I started writing my own songs, and once I got to college I feel head over heels for the the folk music from Eastern Europe (I know - kind of out of left field, but boy do I love the stuff!) and then I started pursuing music as a profession myself.  
I had always wondered why I never connected to the folk music of my ancestors. I am one of those rare birds whose ancestry lies completely on the emerald isle (County Galway, County Mayo, County Donegal, County Cork to name a few of the genetic ties). The family took multiple trips over the years and for some reason Ireland had yet to be a destination.  
In 2021, as I turned 39, to told myself that for my 40th, I would take myself to Ireland. I could feel myself longing for up close exposure to the culture, the folk music, and country itself. So many of the recordings I had heard online were not that appealing to me for one reason or another. I had never learned an Irish song from an actual human from Ireland. My trio had stated doing an Irish song "Stretched On Your Grave" a few years back, but that was really the extent of it.
SOOOO, I pulled out my old Southwest Rapid Reward Visa and bought me a ticket in January of 2022, and it was set. I also reached out to my friend and singing colleague, Kristine Barrett, to find out about studying traditional Irish singing and she put me in touch with Mary McLaughlin. I started taking lessons with Mary over Zoom.  
The fist song we learned was 'Gabhaim Molta Bríde' which is a song honoring the goddess Brighid. She taught me this song because of the upcoming St. Bridid's day in Ireland, not because of my being her namesake.  
The second song, AN RAIBH TÚ AR AN gCARRAIG is "a fragment of a longer love song possibly from the mid 1700s, composed by Tyrone poet / harper Dominic Ó Mongain in praise of Elizabeth Blacker of Armagh. The original song had 6 verses. This two verse version is believed to have been used as a 'code' song during penal times (1600s  - 1800s) when the catholic mass was banned and priests were outlawed. They would take shelter in a community and perform the mass in secret on a rock in a secluded area – these rocks became known as mass rocks. The tools (vestry and chalice) for the mass were hidden in the vicinity of that rock. The song was used to signal whether or not a mass was going to take place – the clue was in the last line – if the answer was negative it wasn't safe to go to the rock – if it was positive, it was." 


The third song we worked on, Óró 'Sé Do Bheatha Bhaile, is a song about Grace O'Malley that is a very commonly sung song in Ireland. In the first week of the trip, we attended a traditional music pub crawl and I was happy that this was one of the songs they sung.
Here is the translation of this song: 
Welcome home most woeful woman. It was our ruin that you were in bondage. Your fine homeland occupied by outlaws and you sold to the foreigners. Óró, you're welcome home, now the summer is coming. Grace O' Malley is coming over the sea, armed Youth with her as guards. They're all Gaels, not Galls nor Spanish and they'll put a rout to the Foreigners. May it please the King of miracles that we will see even if we only live for a week afterwards. 
Grace O'Malley and a thousand warriors sending the foreigners away. 
Song four is the beautiful Caoineadh na dTrí Muire. This song "is one of the most famous KEENS (or laments) in the Irish tradition. Probably medieval in origin it offers a human perspective on the suffering of not only Christ but the three Marys who loved: his mother; her sister, Mary Mary Cleophus, mother of James, and Mary Magdalene  – who are gathered round the foot of the cross weeping and lamenting for him.  The Caoin (keen) "ochone" is a truly ancient funeral cry that survived in Ireland for well over a thousand years and was used by keeners right up until the twenty first century." 
A bhean udaí thall. I had asked Mary for a song that was kind of dark, and boy did I get it! This song (which I can't find a sample that I am keen on online) is basically a murder ballad, of 'the pregnant wife' being drown by 'the pregnant girl' and guess who they have in common? The master of the house - of course.  
The last song I started in on before my trip was a song that my dear friend Lily Storm turned me on to. It is a beautiful Sean Nos song called Aililiú Na Gamhna. 
I am still working on this one and really all of these songs and hop to be able to share my interpretations soon. 
When I actually arrived in Ireland in and get invited to participate in sessions, I did not feel prepared to sing any of these songs in the complete form but I now have a sense of where they come from. I have a better sense how to learn them and I feel a bit more able to hear the language and a little more empowered to give my voice to them.